Both rappers have channeled the moment into records, potential albums, social media hashtags, renewed relevance and potential tour dates.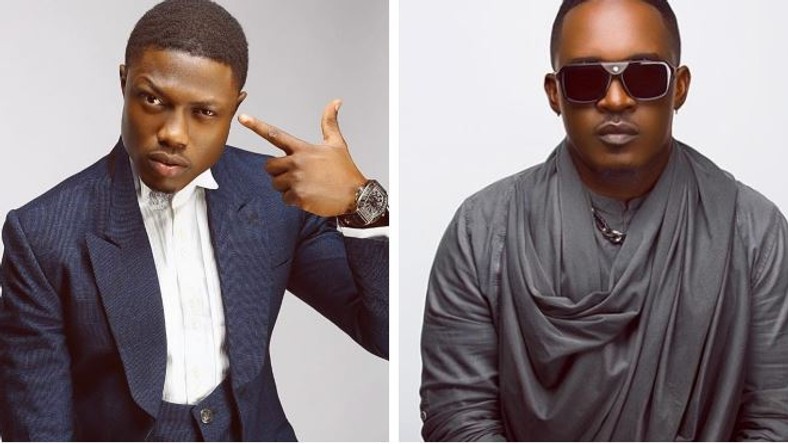 Over the past one month, Nigerian Hip-Hop has seen it's most exciting moment since 2017's 'You Rappers Should Fix Up Your Lives.' Coincidentally or not, M.I Abaga is once again at the centre of it.
After headlining the two most talked about Hip-Hop cyphers of 2019, he intentionally or unintentionally reignited his beef with
Vector tha Viper.
The beef has been the most talked about event in Nigerian music over the past four months. It might have ended with
AQ's
'one finger of death punch,'
but its effect is still felt across the industry.
Through the days that the songs were released, trends and social media conversations birthed allegiance, merchandising, viral catchphrases and major media interviews. New facts came to light and fairness mixed with sentiment while judging the winner.
Now that the dust has settled, let's be fair;
M.I Abaga
's '
The Viper'
might have been the better track, but
Vector won
that beef hands down - it's not even close.
'Judas The Rat'
was like a statement of defence laced with a counter-claim.
He also instigated
M.I
's enemies against him by poking wounds that might have been healing up. What ensued was
gbas gbos
on all sides for M.I who probably didn't see it all coming. Just like that, what most of us didn't see coming happened; M.I had an L.
But in the larger conversation, both rapper actually won
The beef between
M.I Abaga
and
Vector
has
a long history
of contradictory accounts. But in the end, the cause of the beef seems a case of competition laced with a perfect mixture of mutual respect and competition. While
Vector
might have fallen off over the past few years, M.I has not been who he once was.
Barring his 2017 single, '
You Rappers Will Fix Up Your Lives,
' his veteran status as a kingmaker has slowly began to kick in. His music has also taken on more substance and different essence. Even the multi-genre
Rendezvous
is a blend of different things on a different essence. Many people might deny his genius, but it never left him. The man is still a genius, but the virality has slowed down.
That was why Vector rapped on the 'Headliners' segment of the 2019 Hennessy cyphers on August 16, 2019 that, "...Your period of drought, this is your summer days. We know the sun dey hammer you now.. And the whole world has heard you subbing me in other ways, but we all know you shading me won't keep your sun away…"
The drought he was referring to is M.I's lack of a mainstream hit and possibly the vacation of his seat as CEO of Chocolate City Music.
But when it's all said and done, the beef profits both rappers. The effectiveness of the beef on the marketing and brand awareness sides as regards mainstream consciousness have even led many people to theorize that the beef is cooked. While this writer thinks that might be a long shot, he does see the point.
M.I Abaga
has not been this relevant since 2017's
'You Rappers Should Fix Up Your Lives.
' It's also credit to
M.I Abaga
that him or something/someone related to him has provided the most exciting moments in Nigerian Hip-Hop for a number of years. Like him or hate him, facts are facts.
Some might argue about
#LAMBAugust
and the
Martell Cyphers
brought conversation and they will have a point. However, the conversation around
M.I Abaga
vs.
Vector
took over Nigerian pop culture and news. It ran this country for the better part of one month and M.I performed at Big Brother's eviction show off the back of that beef.
He then went on stage wearing a shirt emblazoned with #NoSnakes - an obvious diss at Vector and it trended on the go. It also became a major pop culture reference as Nigeria has churned out merch. Guys, credit to the Martell Cyphers, but they have nothing on M.I vs Vector.
Just before that performance on
Big Brother
's stage, M.I announced his first North American tour with a pungent title. You guessed it, #NoSnakesTour. M.I Abaga was already a bigger brand before this beef, but it thrust him back into the spotlight. He is also set to release an EP. Denying it will be more ridiculous than saying money is trouble.
For Vector, his court case with
YSG Entertainment
really slowed him down. While he had hits like
'Angeli
' featuring
9ice
and
'King Kong
' after the saga, he never remained the same. Even good songs like
'8'
even failed to make any meaningful impact. He fizzled out of A-List but was never totally irrelevant. He was still on the
Hennessy
side of things doing good with the cypher and the artistry.
He also won two awards at the 2016
Headies.
However, the relevance and substantial viral significance of his beef with M.I Abaga must have even attracted international attention. Ghanaians were following it and so were other foreign nationals. A lot of people might have stuck with Vector, but a lot more people stopped caring.
Since the beef commenced, Vector has heavily promoted released and unreleased singles with
Davido, Larry Gaaga
and so forth. Every word he tweets now goes viral. On the back of this, he is set to drop an EP titled,
Vibes Before T.E.S.L.I.M
and then an album titled,
T.E.S.L.I.M.
Just a day ago, a movie with a scene of
Vector
kissing
Michelle Dede
trended on
Twitter.
The movie is titled, '
June
' and it was released in 2018. Yet, it started trending in 2019. The numbers might not be a lot, but they can be easily traced.
If both rappers throw shows in December 2019, they should sell-out venues. Such is the impact of the beef between both men. One party might have won the beef, but both parties are reaping fruits of its aftermath.
This is a real time manifestation of 'There's no such thing as bad publicity, it's all about how you manage and channel it.' With the way both rappers have channeled this beef, if they were contracted to construct gutters and drainage channels in Lagos, there will be a brighter future than one of being under water by 2050.
One incredible sight in December for any live show head will be seeing the performance of
'Judas The Rat'
by
Vector
or '
The Viper'
by
M.I Abaga
at their respective shows.